America's Downward Trend?
While the title of this post may have you thinking that this is going to be about the economic mess our country is in, I can tell you this much... it isn't about that. It is about another downward trend, this trend is centered on sports, and the USA's lack of success in many of them recently. As I was reading through USA Today last week I came across an article by
Christine Brennan
, a writer that I honestly do not like. However, she made some interesting points in her piece and I thought it was worth delving in a little deeper to figure out if American sports are on the decline... lets go through this sport by sport...
Basketball
During last week's NBA draft, 4 of the top 7 picks were foreign born players. This draft was admittedly weak. Basketball is slowly earning the privilege of being called a "world game." Soccer is the other with that title. While basketball is flourishing around the world, the players are flocking to the NBA. Americans like calling it a world game because it is a game Americans dominate, unlike soccer. With the Dallas Mavericks snatching their first title from the hands of the Miami Heat, Dirk was the star, and has now earned himself some worldwide recognition. While basketball is still strongly in the hands of the USA, the world is slowly creeping up with players who can win titles.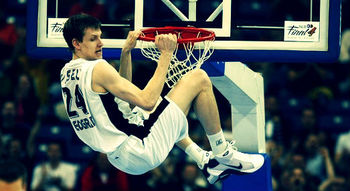 Jan Vesely and his girlfriend made quiet a splash at the NBA Draft...
Football
Football has benefited from some global reach. Bringing in many Samoans to play the sport. Football is still as American as apple pie and will be just fine. Too many other countries prefer Rugby or Australian Rules Football.
Baseball
Baseball is another game that has reached out globally. It has welcomed players with open arms from all over the world. Again, baseball has a strong hold as our national past-time. And while many say that kids are not playing the game anymore, we produce better baseball players than soccer players; and people are ALWAYS talking about the huge amounts of kids playing soccer at the grassroots level. But they all suck.
Hockey
Hockey (Is that how you spell it? It is right? Ok) is a game that is dominated by Canadians, and when they don't win they riot. At least we have not reached that level of loserdom in this country...
Goofy and consistent. Just what you want as an American golf fan...
Golf
Here is where the tide begins to turn. Golf, both in the women's and men's games, is being dominated by international players. A 22 year old named Yani Tseng became the youngest male or female to win 4 major titles. She shot -19 and won the LPGA Championship by ten shots this past weekend. TEN SHOTS, that's insane! Rory McIlroy made his own 22 year old statement in the US Open last weekend, and many people are now toasting him as the next great golfer.
If you look at the world ranking for these two sports there are 3 US players in the top ten of each of the rankings. Can you name the three men ranked in the
top 10 in the world right now
?
Take a second and think about it...
ready?
Ok, here they are: Steve Stricker (7), Phil Mickelson (8), and Matt Kuchar (9). That's no joke folks...
Stricker and Mickelson are both in their 40s and Kuchar (mid 30's) is simply a guy who cashes in top tens and will probably never win a major. Check out the list, not a lot of hopeful Americans who will make a run for that top honor, unless you count that guy named Tiger (I still do...).
The
women's rankings
are just as bleak, and it is dominated by Asian born players. The LPGA has 15 events in the USA and 9 others are held abroad. The LPGA sees the writing on the wall and are cashing in on it.
You think I would miss a chance to
put Natalie on this post?
Tennis
This is even worse than golf. The Williams sisters were both knocked out of Wimbledon on Monday (boo-hoo), and now no one cares. There is not a single American women in the top ten ranking.
Marty Fish and Andy Roddick are ranked 9 and 10 in the world currently. Guess where the next American lands on that
list
? The correct answer is 40. The immortal
Sam Querrey
.
There is no young hopeful coming up from America in either men's or women's tennis. It seems every year some new Eastern European
star
(click it... trust me) comes along.
Serena yelling at a line judge. She is #1 in the world for that skill...
The Future?
As we look forward into the future of sports we can see many more countries involving themselves in new sports. Training kids at younger and younger ages, the risk: burning out or creating people ill-prepared for life outside of a sport. The reward: championships and some regard for the country.
With all the crap going on in the world right now. Revolutions, recessions, and new governments, one has to wonder if nationalism in sports is coming back even stronger. Will people want to cheer for their country, will athletes want to represent their country more than in the past? Is America's weakness becoming other country's strength? I honestly do not know. It does seem like the world is getting smaller. Coaching strategies are spreading faster; the desire to be the best and win the best tournaments is growing among athletes across the world. For me I think it is a great thing, it is sad to see the US down right now. Maybe it will be back, maybe it will be soon. Maybe it will be later. Maybe it will be never. I know that I will keep watching though, rooting for the people I want to root for. Even it that might mean crossing the border to root for a non-American.